In recent years, Ukraine has been one of the leading IT outsourcing destinations in the world. This is due to the ever-growing number of IT-specialists and the local popularity of the industry as a whole. But let's dive deeper and talk about the prospects of searching for a dedicated team in Ukraine and go through the main factors of choice in favor of Ukrainian experts.
Why Ukraine?
According to the rating of the independent resource Kearney, in 2019, Ukraine is 20th in the top of all countries that provide outsourcing services and has already won the trust companies like Google, Samsung, Microsoft, Snap, Crytek, SoftServe, Ubisoft, Oracle and others.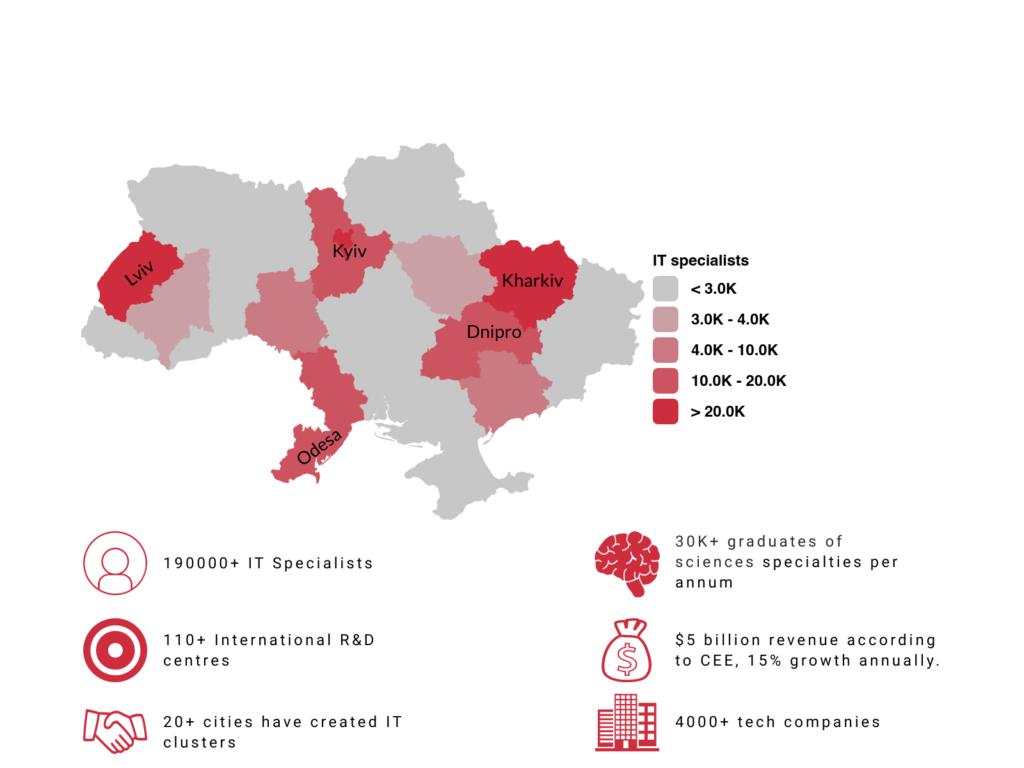 Ukrainian IT industry grows up to 25% year over year.
There are more than 4,000 tech companies all over the country.
StartupBlink ranking Ukraine has taken 31st place.
The number of IT professionals has grown to 200,000+ in 2019.
According to experts' predictions, revenue in the IT industry will amount to $5 billion in 2020.
Over the years, Ukrainian specialists have proved to be highly reliable, simple to communicate, and in-depth qualified at their work, while asking for more than reasonable rates. All in all, the main advantages of hiring a Ukraine-based outsourcing team include:
Affordable rates of high-level experts.
If you pay attention to the above rating, you will notice that Ukraine is preceded by countries with an objectively low level of the economy, as well as countries with an extremely large population (like India and China).
Experienced recruiters note precisely Ukrainian specialists for offering a highly optimal "price-quality" ratio:
Ukrainian IT specialists request is in the range of $25–50, while the rate of their colleagues from countries with a high standard of living (the USA, Japan, Germany, Australia, Canada,
etc.) can be up to $100/h;
It is also worth noting that the number of service companies has reached 2000 and over 50% of specialists are involved in outsourcing and outstaffing.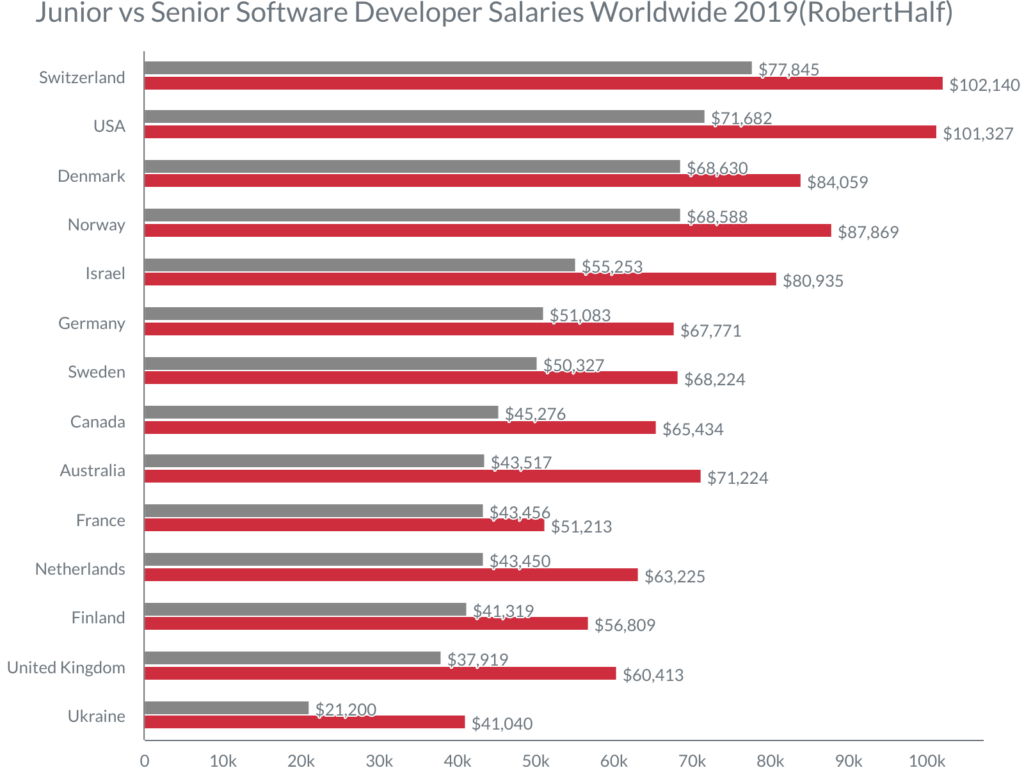 High level of tech-savviness.
A colossal breakthrough was made in the Ukrainian sphere of education: 402 universities and colleges actively train
specialists in various technical areas, the number of graduates in IT field is more than 30,000 year by year.
Therefore, even pre-graduate students become sought-after promising candidates for top Ukrainian and foreign IT companies. There is also a sweeping tendency to open numerous IT academies that nurture high-class professionals in the most complex and popular industries in six months or a year – they train experts in blockchain, artificial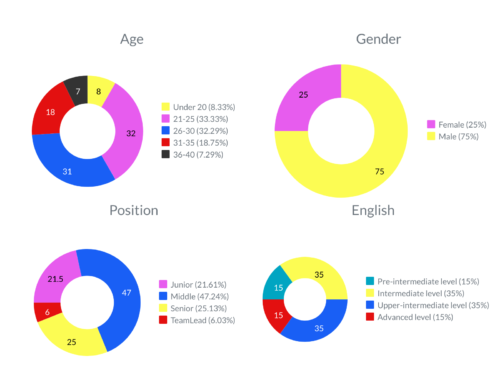 intelligence, big data, etc.
70% of Ukrainians have a secondary or higher education, pre-graduate students become sought-after
promising candidates for top Ukrainian and foreign IT companies.
The most popular technologies are Java (26,3%), C#(15,4%), JavaScript(13,8%), PHP (13,1%), and Python (8%) likewise Ukraine ranks 1st globally by the number of Unity3D game developers and C++ engineers.
The knack for working with foreign clients.
Ukrainian IT companies are increasingly focusing their business interests on foreign customers – ones from the United States, Western Europe, Australia, Canada, etc. For this reason, the typical issues that the majority of teams accustomed to local interactions experiences during the remote cooperation should not arise with Ukrainian experts;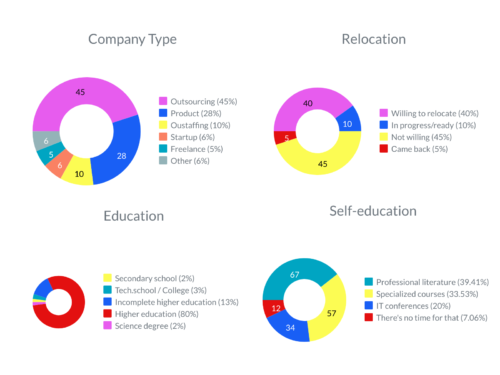 The Global Outsourcing 100 included 18 Ukrainian tech companies in the ranking of the best IT services suppliers and we rank 8th, according to skill value, among the top countries with the best programmers
According to the Kearney Index, the country's investment attractiveness and availability have significantly improved, so it went up by 13 positions over the last 2 years and reached the top 20th in 2019.
Focus on long-term cooperation.
As you can already understand, employment in the IT industry has become a kind of mainstream in Ukraine. This means that already as schoolchildren, Ukrainians become consciously interested in obtaining higher education in one of the IT areas. In turn, employed specialists massively claim that they have found a "dream job", which is defined by rapid career growth, high salaries, well-equipped offices, flexible work schedules, young teams, interesting tasks, corporate events, etc. Thus, the risks that your project will have to change several development teams are minimized;
Government support.
Finally, in recent years, the Ukrainian government adopted several laws that helped strengthen the position of the local IT business. This suggests that, along with loyal rates due to low taxation, you get a kind of a guarantee of your business contractors' stability at the national level.
Top 5 Outsourcing Cities in Ukraine
Kyiv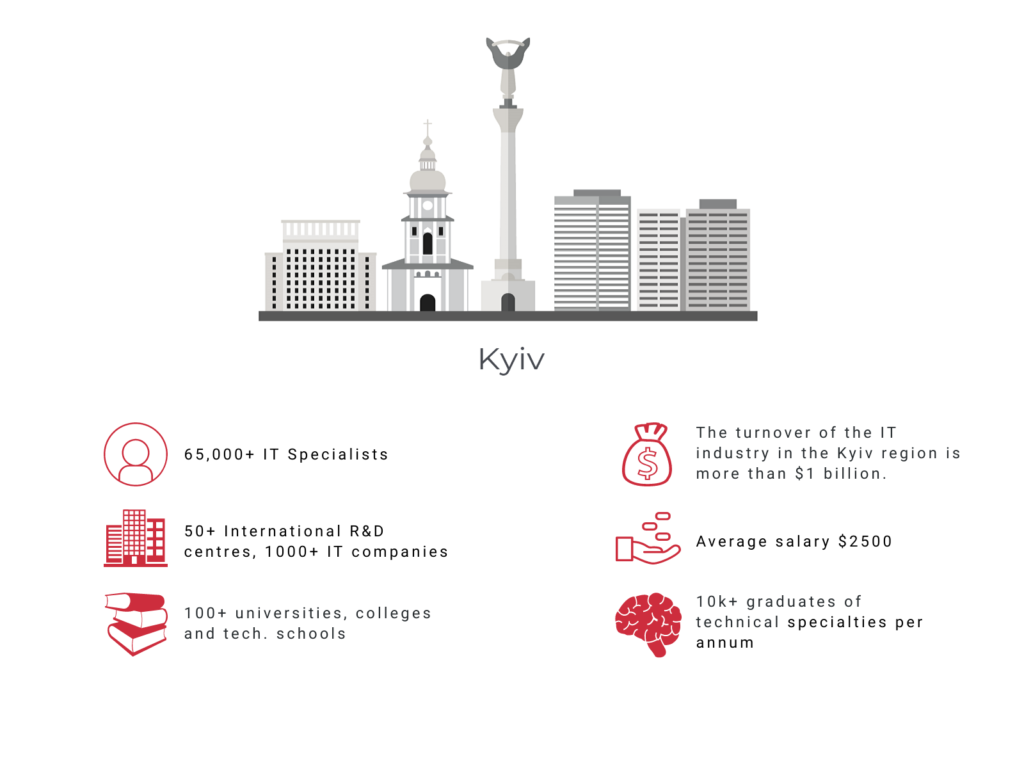 Kyiv is considered an IT capital of Ukraine with the most developed infrastructure of specialists. In big part, Shevchenko Kyiv National University alone is responsible for such a recognition, graduating about 3000 future IT specialists in 2019.
There are more than 50 international R&D  offices of international enterprises and around  65,500 developers.
According to salary statistics, it is also a place with the highest rates in Ukraine (take at least Software
Engineers – juniors average is $850, $2200 for middle SE, while Seniors can earn $4,000 or more).  Kyiv has a low cost of living and holds 173rd place out of 209 world cities ranking, in general, Kyiv is an ideal city from which you can begin your search for your offshore engineering hub.
Kharkiv
Kharkiv is a city of students: 300k students per almost 1.5 million citizens. A large number of universities are concentrated here that provide high-quality technical education: the Karazin Institute, Kharkiv Aviation Institute, the Kharkiv National University of Radio Electronics, Kharkiv Polytechnic Institute, etc.
There are 38 higher educational institutions that provide high-quality technical education. FYI the Kharkiv National University of Radio Electronics "marked" a record number of graduates who received diplomas in IT specialties: 2,800 people.
The USA is the largest export market for Kharkiv IT companies, as it constitutes almost 65% of all 450 service companies in the region.
As for salaries, the average monthly rate of junior SE is $850, while top specialists can earn $3,500.
Lviv
Lviv specialists stand out among the crowd with their "European" format of thinking (this is not surprising, because the Lviv region is located right on the border with Poland and is the largest city in western Ukraine with the population of over 800,000 people).
There are around 340 companies and local IT specialists, not only distinguished by a consistently high level of knowledge and an extensive set of skills, but also by the creativity that many of their colleagues, who seek to "conquer" the global technological community with another startup, may lack. And this is not surprising, while they're living among the UNESCO heritage.
Lviv is well known for its developed IT-cluster, so the rates are pretty high – juniors average is $700, middles is $2000, while Seniors earn $3,700
Dnipro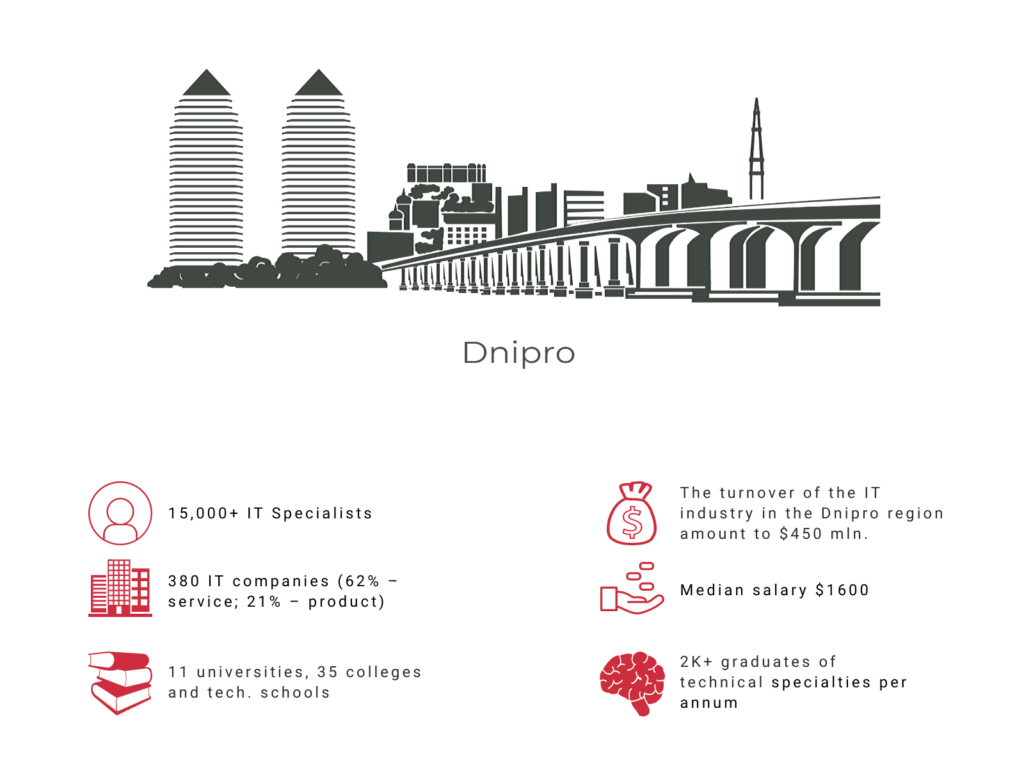 Dnipro has long been known throughout Ukraine as the key centre of the nuclear, arms, and space
industries and now for Oles Honchar and Polytechnic Universities IT graduates. There are 30 higher educational establishments with over 2,000 tech-graduates every year.
According to IT Dnipro Community:
about 16,000 IT specialists work in the region, half of the developers work in the industry from 3 to 10 years, so the city has a lot of experienced IT talents.
The average salary of an IT specialist in Dnipro and the region is $1,650. Revenues are distributed on average as follows: Junior – $700; Middle – $1,700; Senior – $3,300.
Odesa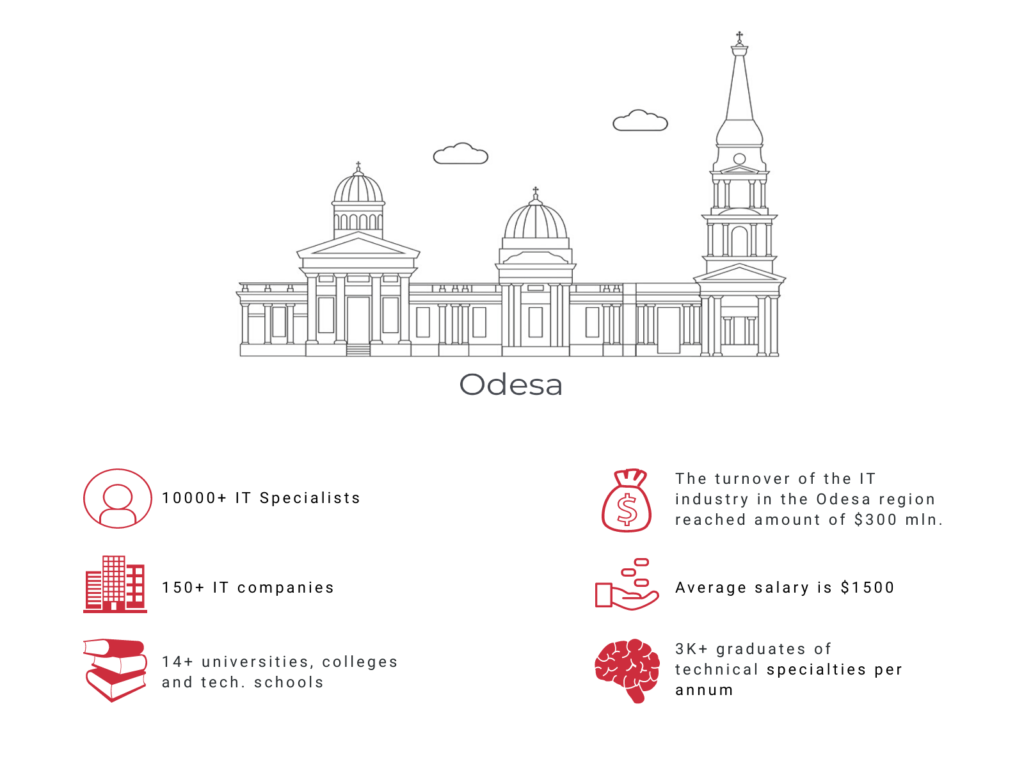 Last but not least, Odesa is, perhaps, the top Ukrainian city in terms of the number of startups, ranks 2 in Ukraine and 235 globally, based on the strength of its startup ecosystem.
In Odesa, all the IT venues, business centers, and coworking spaces are well located – a 15-min distance from one another so it's perfect IT hub located on the Black Sea shore. The city's strong educational system ensures a constant inflow of new talent into the sector (ONPU graduated 1,915 students with IT-related diplomas in 2019) the total number of tech-graduates scored 3000 specialists.
And the salaries here are much more modest compared to the previous cities:
juniors average is $700,
middle – $1750,
senior – $3,400.
Ukrainian Investment Projects & Startups
Ukrainian IT industry grows up to 25% year over year. In 2018, the Ukrainian IT industry raised over $323 million in total and scored 57 points out of 100 on the Global Competitiveness Report published by the World Economic Forum. As for 2019, Ukraine scored 6 points and ranked 64 among 190 economies in the ease of doing business, according to the World Bank rating and the most significant startups and investments that were implemented with the participation of Ukrainian software developers to bring those numbers up even higher include: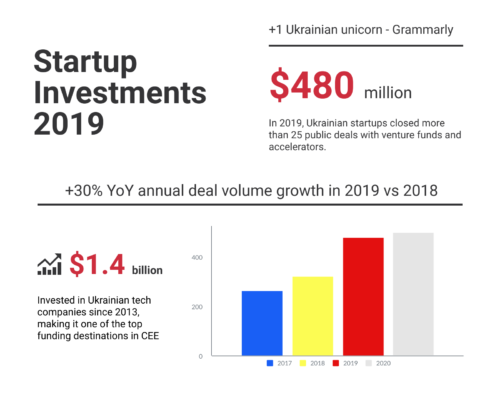 SMRK's investment into a Ukrainian fashion-group Love&Live;
The RetargetApp startup which accumulated $1,5 million in investments;
A fintech startup MyCredit which got $3 million from TAS group;
The meds selection & delivery service Liki24.com which gathered $1 million;
An educational online platform IT Mate academy which drew in $580 000 in investments for further development.
Ukrainian startups closed more than 25 public deals with foreign venture funds and accelerators, and it's also worth mentionin' +1 Ukrainian unicorn – Grammarly.
If we talk about some earlier Ukrainian startups that managed to demonstrate their worth around the world, we can't but mention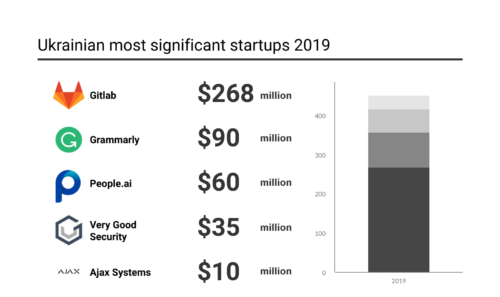 The RetargetApp startup which  accumulated $1,5 million in investments;
A fintech startup MyCredit which got $3 million from TAS group;
The meds selection & delivery service Liki24.com which gathered $1 million;
An educational online platform IT Mate academy which drew in $580 000 in investments for further development.
Summary
To summarize our brief review – as you can see, despite the relatively average position in the global Kearney ranking, Ukraine still was repeatedly recognized as the best country for the employment of offshore software developers. We suggest that you verify this claim through personal experience.
Our company will select top experts with exactly the set of skills that are required for your project. Get a guaranteed high-quality product created in accordance with the best world practices of software development at affordable rates right now!